June 15, 2022
With more than 60 years of experience, 33 presses, and the ability to work with a wide range of metals, we can provide the automotive stamping press servicesyou needs. We stamp everything from small brackets to closure panels, including full size body sides, floor panels, A-frames, hoods, and battery trays, among other parts. We are the only metal stamping company in the United States who has engineered a process that allows us to stamp complex parts in one piece, such as stainless steel lipskins for airplanes.
Our expertise goes beyond stamping a part and shipping it to you. We engineer the complete manufacturing process to ensure it is as efficient as possible. We utilize Autoform, formability software for the engineering, evolution, and improvement of the sheet metal forming process, including spring back analysis. As a full-service sheet metal solutions provider, we understand the key to being a successful partner is more than just delivering a high-quality product on-time and work to anticipate your program needs.
Our Automotive Stamping Press Capabilities
We have automotive stamping presses to manufacture virtually any of the parts you need. Our 33 presses range from 150 to 4,000 tons with bed sizes from 42" x 60" to 240" x 96". Our equipment allows us to manufacture parts of various material specifications and thicknesses. This includes hand and coil fed transfer and tandem line presses. We feature a 2,500 ton coil fed transfer press allowing for a faster, more automated process for large stampings and assemblies. Our brake press uses v-tool forming, reducing tool costs for straight, less complex bends. We also have 500 and 600 ton presses with roll-out bolsters that use multiple dies and minimize change outs over time. Combined, this gives us the ability to stamp the parts you need to get your product to market faster.
Kirksite Foundry Tools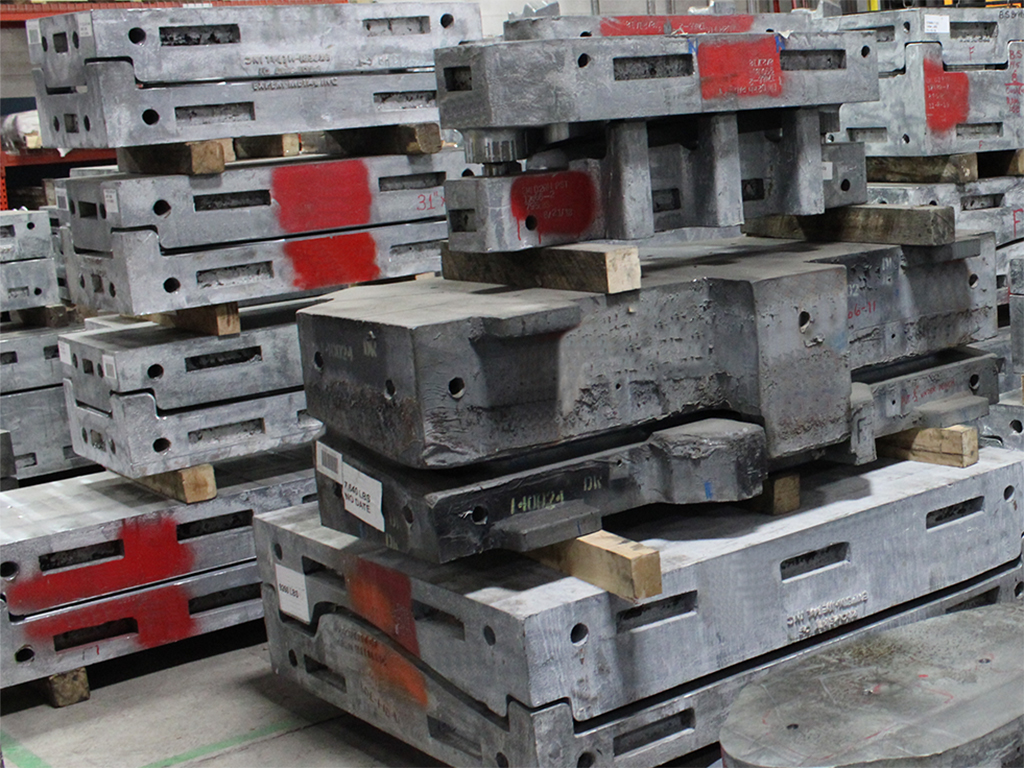 Each metal has its own set of unique specifications. We work with numerous advanced and exotic materials including:
Aluminum, including bright or pre-painted
Stainless steel, including polished or bright grades
Carbon steels
Boron steel
Dual phase steel
Advanced high strength steels, including martensite and TRIP
Inconel®
Waspaloy®
Hastelloy®
Titanium
Magnesium
All ferrous metals
Our experience with this wide range of metals and their distinctive properties is why we are one of the industry's leaders in automotive stamping press services. We go above and beyond simple stamp and ship projects. We are your partner for all your metal stamping and forming needs.
To learn more about our metal stamping capabilities, visit https://www.qmc-emi.com/capabilities/stamping/
#qmcemi #automotivestampingpress #metalstamping #automotivemetalstamping