We are a full service sheet metal supplier that specializes in aerospace and automotive welding. Our capabilities and experience span from simple fastener installation to full vehicle Body in White (BIW). We build tools, stamp, laser cut, measure, and assemble industry-leading metal parts and assemblies. Our highly skilled technicians are qualified to AWS standards for GMAW, GTAW, MIG, TIG, and RSW processes. Validations of our various joining processes are completed with destructive methods, including sectioning and etching, ultrasonic inspections (RSWA), and digital imaging micrograph in our onsite metallographic laboratory.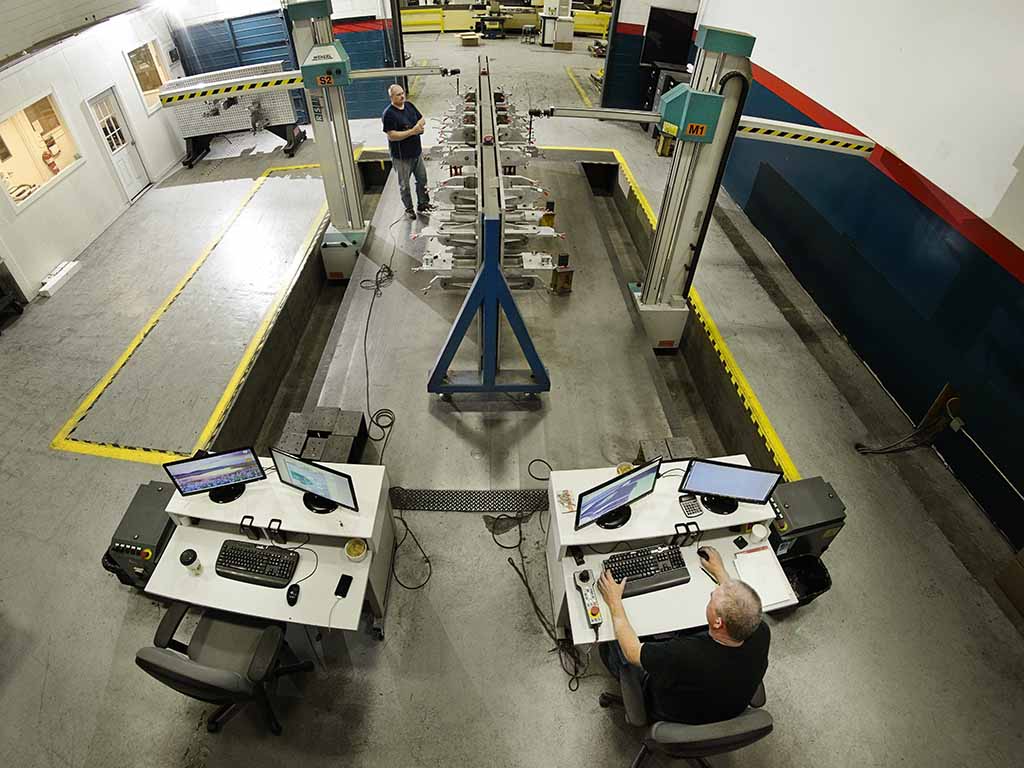 Each of our three Centers of Excellence utilizes state-of-the-art equipment with capabilities for all of your advanced joining needs, including self-piercing rivets, flow drills, and adhesive applications, making us a leader in automotive frame welding. Using this wide range of joining technologies, we can join dissimilar metals of different thicknesses using our mixed material joining technology. From simple fastener installation to full vehicle BIW builds, our customers benefit from our rapid response, manual-driven processes, production intent, and robotically executed precision joining. Due to our vast experience over the last 60 years, we are able to reduce capital by utilizing our existing tools and equipment for new programs.
Using this wide range of joining technologies, we can join dissimilar metals of different thicknesses using our mixed material joining technology.
Complex Robotic Joining Methods
We employ a wide range of complex robotic joining methods based on your project's specific needs and requirements, including resistance welding, hemming, adhesives for structure and bonding, and an onsite curing oven large enough for a completed BIW. Our three Centers of Excellence give us the capacity for large prototype joining projects as well as hybrid assembly and production programs.
Our joining technologies include:
AC manual weld guns (RSW)
DC manual and robotic weld guns with adaptive controls (RSW)
Press welder for fasteners (RSW)
Clinch press for clinch nuts or studs
Manual and robotic welders (MIG)
Fronius "cold metal transfer" manual and robotic welders (CMT)
Manual welding equipment (TIG)
Drawn arc stud welding
Self-piercing rivets (SPR) – (Henrob & Bollhoff)
Flow drill screws (FFS & FDS)
Bonding with onsite cure oven capacity for full vehicle BIW
Laser welding
This assortment of joining methods ensures we can meet the specifications and different joining arrangements your build needs.
We have designed and completed programs with a wide array of joining processes for many materials, including aluminum, steel, stainless steel, high nickel alloys, and titanium. We can join dissimilar metals of different thicknesses using our mixed material joining technology, ensuring we can join the materials your program requires.
We specialize in both manual and robotic welding, allowing us to customize the manufacturing process to give you the repeatability and flexibility you need.
We have some of the most experienced welding craftsmen in the industry on our team. Manual welding, a traditional process, is a lower cost alternative for low volume projects and assembly tooling. It requires less programming and a shorter start-up time, instead relying on the decades of experience and quality assurance of our experienced craftsmen.
Robotic welding is the newer, technology based approach for welding programs that require high repeatability, such as a BIW build up. There are many benefits of robotic welding, including:
Reduced piece price over the life of the project
Increased quality and repeatability in higher volume programs
Increased rate and flow
In addition, we are able to test the repetitive dimensional quality of your program through a coordinate measuring machine (CMM) or scanning, ensuring repeatability is met. We also have automated weld tip dressing on all robotic cells, which allows us to reshape weld tips to meet specifications ensuring quality throughout the program.
Flexible Manufacturing Cells
We utilize flexible manufacturing cells that allow us to change the configuration quickly and easily depending on the needs of your project. This leads to reduced capital due to the wide range of technologies we work with on a day-to-day basis. Each cell contains a variety of weld guns that are mounted on tool changers so we are able to easily move equipment from one cell to another to fit your requirements. Our cells also have Patco bases, allowing us to fit your specific design fixture on our work bases. Our flex cells are able to run in full auto, increasing the rate in flow, getting products to you faster. All cells also meet OSHA safety requirements ensuring the highest safety of our team members.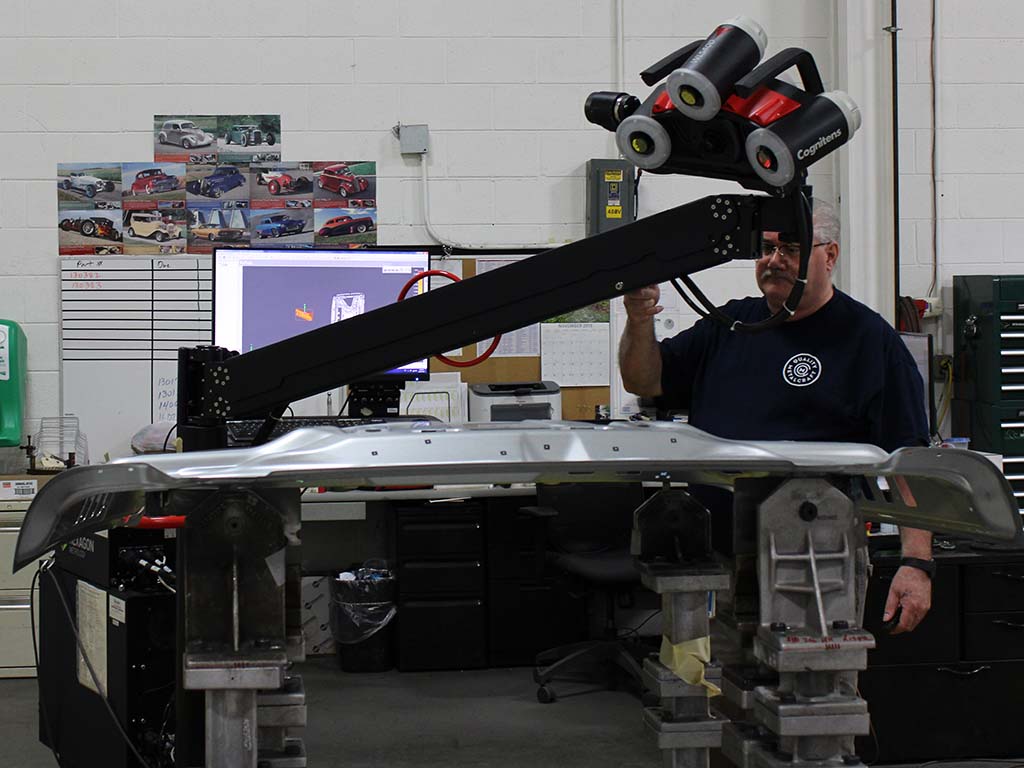 We have many testing and validation standards in place to ensure the highest quality product, every time. We have an isolated weld verification room for destructive testing for spot and MIG welds, as well as non-destructive spot weld validation using RSWA Tessonics technology. In both of these processes, we use standard tear down documents for reporting so your team can easily understand our testing results.
We also use dimensional measuring for parts and fixtures up to a full BIW. Our white light scanning, blue light scanning, and dual arm CMM measure every aspect of your part ensuring it meets your exact specifications.  We utilize Polyworks and Data Page for reporting to ensure testing results are easily understood.
For specialty programs, such as battery enclosures, we have unique pressure testing equipment to test for leaks. This involves blowing pressurized air into a battery box to measure the leakage decay. We do this on every battery box to verify that it meets your standards. We then complete a dimensional check using CMM or laser scanning.  Any units not meeting specs will be reworked and retested.
We utilize world-class quality systems to ensure our processes are delivering optimal results. Our metallographic laboratory is used for R&D, hot stamping material inspection, product validation, and weld failure analysis. This micro-structure analysis allows for very specific tensile strength and hardness testing. Our quality laboratory utilizes CMM programming, portable laser scanning, and check fixtures to verify tight tolerances. We have CMM equipment large enough to measure a full BIW, guaranteeing your final product meets your exact specifications. We also have the ability to test welds real-time, which ensures speed-to-market and the quality our customers have come to expect.
Using this wide range of joining technologies, we can join dissimilar metals of different thicknesses using our mixed material joining technology.