August 10, 2022
Manufacturing is a customized process and each program has its own set of requirements. We have over 60 years of experience working with unique sheet metal forming and fabrication programs. We tailor our solutions to your program's specific needs. From cutting and bending to stamping and assembling, each program is unique. We manage your complete program in-house, vertically integrating all processes and technologies while maintaining a single point of contact.
Our manufacturing experts work with a wide array of metals, forming:
Aluminum, including bright or pre-painted
Stainless steel, including polished or bright grades
Carbon steels
Boron steel
Dual phase steel
Advanced high strength steels, including martensite and TRIP
Inconel®
Waspaloy®
Hastelloy®
Titanium
Magnesium
All ferrous metals
Stamping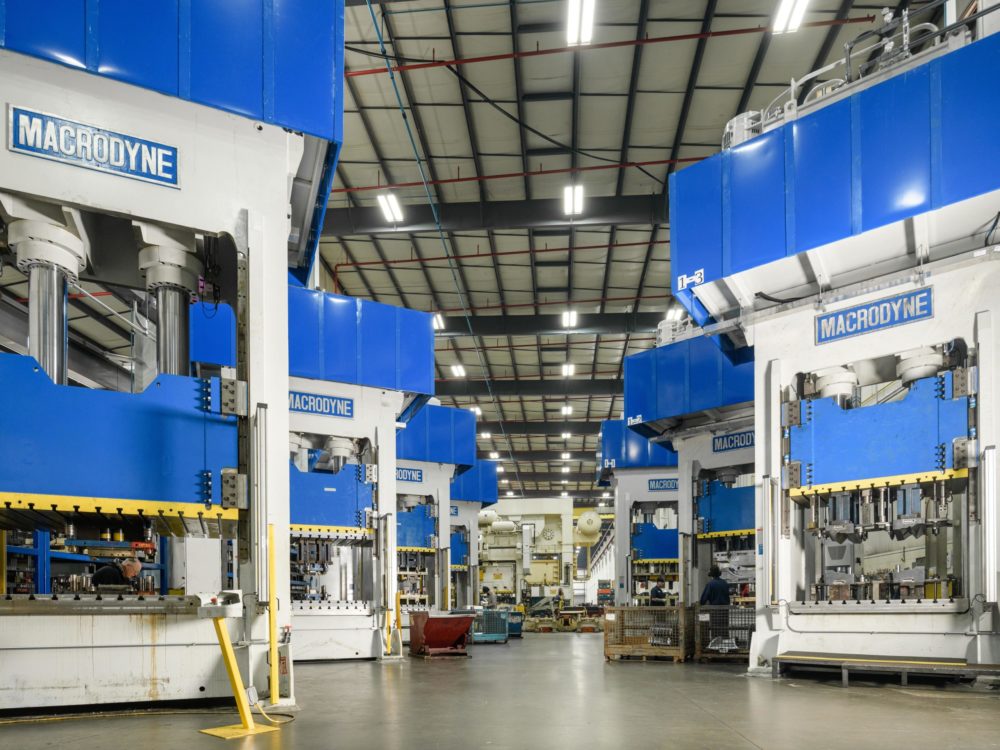 We have stamping presses to metal form virtually any part you need. Our 33 presses range from 150 to 4,000 tons with bed sizes from 42" x 60" to 240" x 96". Our equipment allows us to manufacture parts of various material specifications and thicknesses. This includes hand and coil fed transfer and tandem line presses. We also have 500 and 600 ton presses with roll-out bolsters that use multiple dies and minimize change outs over time. Combined, this series of presses gives us the ability to stamp the parts you need to get your product to market faster.
Hot Stamping
Hot stamping is a different method than the traditional stamping we use for most of our programs. In a hot stamping application, we first heat the sheet metal to help form it. Hot stamping changes the chemical compound of the metal that has been stamped, making it stronger. This allows us to form higher strength materials without adding reinforcements, which add additional weight to the vehicle. It also allows us to use metals with higher yield and tensile properties.
This process is ideal for parts that are integral to the structure of the vehicle, such as B-pillar reinforcements. These parts protect passengers and take most of the vehicle load so it is important that they are very strong in case of an accident. Our hot stamping machines feature fully automatic robotic handling. This increases process repeatability and eliminates the occurrence of human error, increasing quality.
Our Capabilities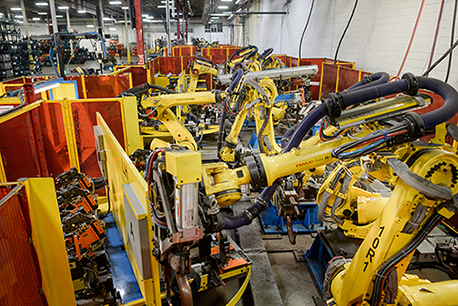 Our sheet metal business leverages old world techniques combined with the latest computer-controlled technology to bring your visions to reality. To provide complete services, our manufacturing capabilities include:
Process engineering
Kirksite foundry
Tool machining
Stamping
Hot stamping
Sheet metal fabrication
Laser cutting
Assembly
This range of services allow us to provide complete sheet metal forming and fabrication programs in-house, using our experience to provide you with a high quality product. Whether you need sheet metal fabrication for parts to assemble yourself or full BIW, we can design, build, and assemble your parts.
We also develop custom assembly work cells based on your project's specific needs to standardize processes and ensure consistent quality through the life of your project. These efficient processes allow for the rapid execution of product and process revisions, including managing master data files, incorporating working data files, and providing updates to all process documentation.
Read more about our full range of capabilities here.