July 28, 2022
How is our low volume/prototype BIW assembly process different from other metal forming companies? We take a strategic engineered approach and utilize robotics based on your requirements, our years of proven production experience, and automated technologies. This semi-automated process creates a leaner, more cost effective project. Your program can see greater repeatability, reduced piece price over the life of the project, and increased rate in flow.
Our prototype BIW capabilities include:
Process engineering
Foundry
Tool machining
Stamping
Hot stamping
Sheet metal fabrication
Bending
Laser
Assembly process
Production
From process engineering at the beginning of your project to hot stamping unique metals to final assembly of those parts, we house all of our capabilities under one roof. This allows us to have complete control of the quality of your project from start to finish.
We utilize our production manufacturing experience to develop robotics and flexible assembly cells that increase prototype repeatability. Our processes are fully integrated from design to assembly, which lets us ensure the quality you expect throughout the entire process. We can stamp, laser cut, join, and assemble large, complex geometries and assemblies, including full prototype BIW vehicles.
In-house Kirksite Foundry and Tool Design
Our in-house kirksite foundry allows for full control to support tooling and assembly for projects that require quick turnaround. It is EPA approved and has a pour capacity of over 750,000 lbs. a month. This uniquely positions us for prototype BIW projects. Our experienced craftsmen have decades of technical expertise designing tooling for prototype and short-run applications. Their years of knowledge in tool design process drives consistency, efficiency, and performance
Stamping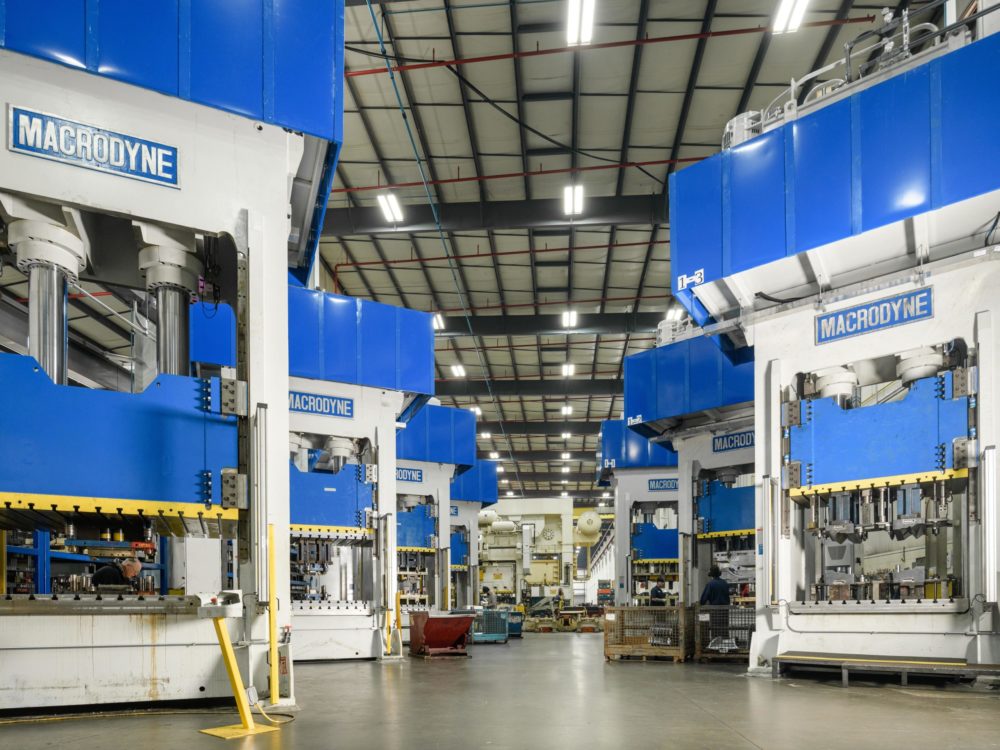 We have stamping presses to manufacture virtually any part you need. Our 33 presses range from 150 to 4,000 tons with bed sizes from 42" x 60" to 240" x 96". Our equipment allows us to manufacture parts of various material specifications and thicknesses. This includes hand and coil fed transfer and tandem line presses. We also have 500 and 600 ton presses with roll-out bolsters that use multiple dies and minimize change outs over time. Combined, this series of presses gives us the ability to stamp the parts you need to get your product to market faster.
Hot Stamping
Hot stamping is a different method than the traditional stamping we use for most of our programs. In a hot stamping application, we first heat the sheet metal to help form it. Hot stamping changes the chemical compound of the metal that has been stamped, making it stronger. This allows us to form higher strength materials without adding reinforcements, which add additional weight to the vehicle. It also allows us to use metals with higher yield and tensile properties.
This process is ideal for parts that are integral to the structure of the vehicle, such as B-pillar reinforcements. These parts protect passengers and take most of the vehicle load so it is important that they are very strong in case of an accident. Our hot stamping machines feature fully automatic robotic handling. This increases process repeatability and eliminates the occurrence of human error, increasing quality.
Complex Robotic Joining Methods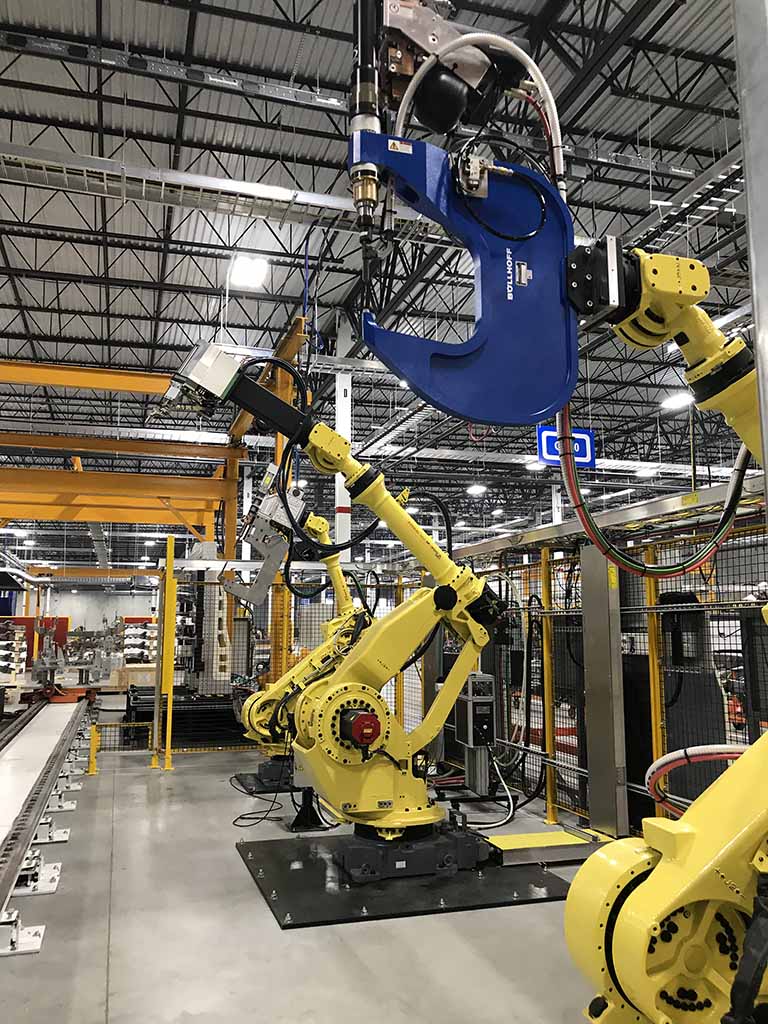 We employ a wide range of complex robotic joining methods based on your project's specific needs and requirements, including resistance welding, hemming, adhesives for structure and bonding, and an onsite curing oven large enough for a completed BIW. Our three Centers of Excellence give us the capacity for large prototype joining projects as well as hybrid assembly and production programs.
Our joining technologies include:
AC manual weld guns (RSW)
DC manual and robotic weld guns with adaptive controls (RSW)
Press welder for fasteners (RSW)
Clinch press for clinch nuts or studs
Manual and robotic welders (MIG)
Fronius "cold metal transfer" manual and robotic welders (CMT)
Manual welding equipment (TIG)
Drawn arc stud welding
Self-piercing rivets (SPR) – (Henrob & Bollhoff)
Flow drill screws (FFS & FDS)
Bonding with onsite cure oven capacity for full vehicle BIW
Laser welding
This assortment of joining methods ensures we can meet the specifications and different joining arrangements your build needs.
On-Site Testing
We utilize world-class quality systems to ensure processes are delivering optimal results. Our metallographic laboratory is used for R&D, hot stamping material inspection, product validation, and weld failure analysis. This micro-structure analysis allows for very specific tensile strength and hardness testing. Our quality lab utilizes coordinate measuring machine (CMM) programming, portable laser scanning, and check fixtures to ensure tight tolerances are met. We have CMM equipment large enough to measure a full BIW, guaranteeing your final product meets your specifications. We also have the ability to test welds in real-time, which ensures speed-to-market and the quality our customers have come to expect.
Your Project's Security
The security of your project is a top priority for us too. We have fully secured vehicle build areas to ensure the utmost confidentiality of your prototype project. Our buildings require key card access and all visitors must cover cell phone cameras while on-site. All visitors must also be accompanied by a QMC-EMI employee at all times to make sure they are only in approved areas of the building. We will implement whatever customized measures you require to protect the security of your prototype project as if it were our own.
To learn more about all of our prototype capabilities, visit www.qmc-emi.com/solutions/prototype/
#qmcemi #prototype #assembly #biw #metalforming