March 21, 2023
Kirksite is a zinc-based alloy used to create prototype and short run production tooling for automotive and aerospace parts. These tools are easily machined and the surfaces can be polished to a smooth finish. Our in-house kirksite foundry enables us to keep the entire process under our roof, from tooling to finished part. This allows us to produce foundry tooling and incorporate changes very quickly to meet your tight time frames.
Our foundry tooling equipment includes:
Three Limberg MPH foundry furnaces with a 14,000 lb capacity
One Limberg MPH feeder pot furnace with a 1,000 lb capacity
Caster AR-Cel 300 air set sand machine
25 Ton overhead gantry crane
10 Ton overhead gantry crane
Kirksite has a rich manufacturing heritage and our in-house foundry tool capabilities allow us to create lower cost, quicker, minimal finishing castings on-site. We have a pour capacity of over 750,000 lbs a month with the ability to pour up to a 35,000 lb single casting.
Kirksite Metal Properties
Kirksite is a lower cost liquid metal option that requires minimal finishing while creating a very accurate cast.
Ultimate tensile strength: 35,000 psi
Brinell hardness: 100
Density: 0.25 lb/cu in
Solidification shrinkage: 0.12"/ft
Melting range: 717-745◦F
Casting temperature: 800-850◦F
Our Kirksite Process
The kirksite process can take 10-12 hours of continuously adding kirksite and torching it before a die is complete. This requires years of experience to know when the die is ready for the next step.
Our Foundry employs some of the most skilled tradesman in the industry. Using their many years of experience and vast knowledge, they create accurate molds through four main production stages:
Prepare and set-up Styrofoam pattern
Create die cavity with bio degradable binder and sand
Pour molten kirksite metal to create casting
Prepare casting for machining operation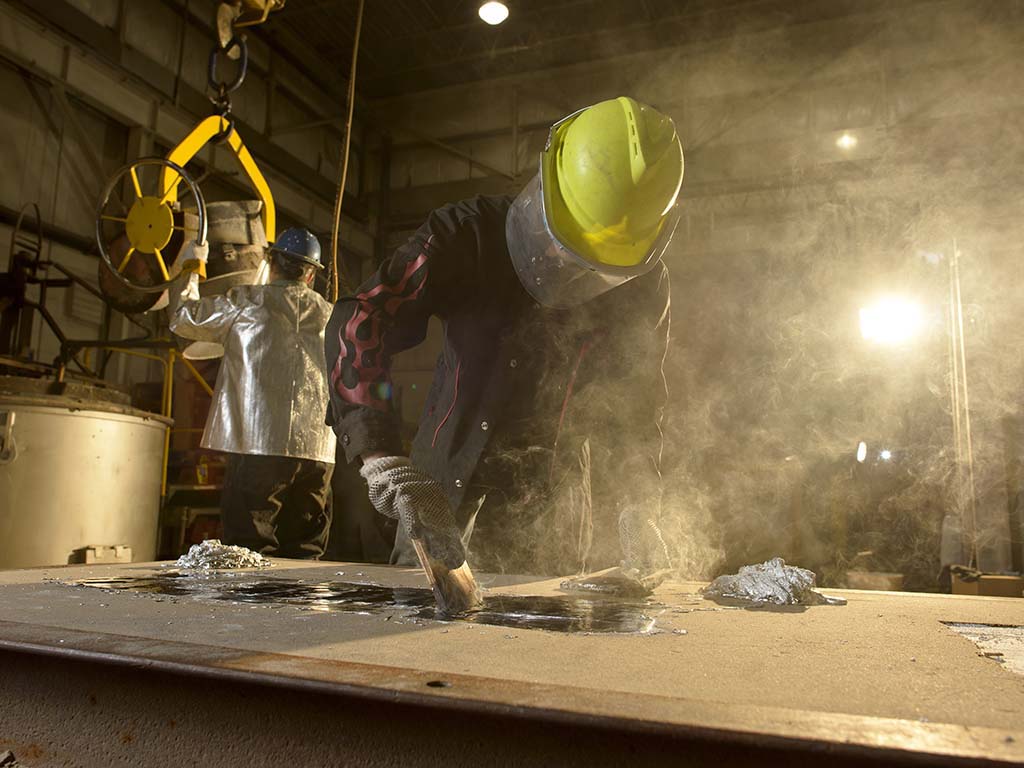 Learn more about our Kirksite foundry here.