Before a new production vehicle, semi-truck, or airplane can be produced, prototype test units need to be manufactured. This is one of our core capabilities – prototype metal stamping, as we combine your data and our years of expertise to create the prototype vehicle specific to your criteria.
We utilize robotic automation in our prototype manufacturing process for OEMs, start-ups, electric and autonomous vehicles, aerospace products, and the military. Our prototype resources allow us to produce anything from small bracketry to complete Body in White vehicles. This includes manufacturing tooling, prototype stampings, trim moldings, specialty items, and sub-assemblies with complex joining.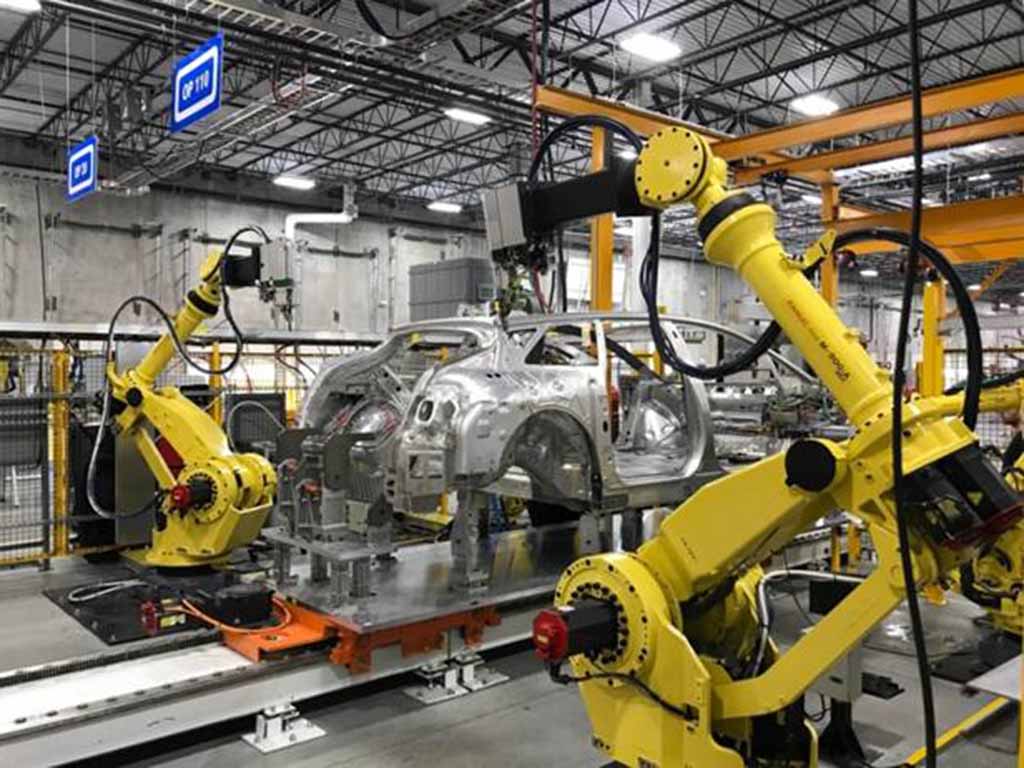 Our strong focus on upfront engineering drives lower product development costs and shortened product development cycles. This, combined with our years of prototype and production experience and the use of the most advanced technologies, helps us bring your project to life on-time and on budget.
We are a full-service sheet metal supplier that understands the key to a successful partnership is more than just delivering a high-quality product on-time. We believe very strongly in maintaining standards to assure complete customer satisfaction from program inception through the evaluation of metrics after job completion. Once a job is complete, we reflect upon how we can continuously improve our processes.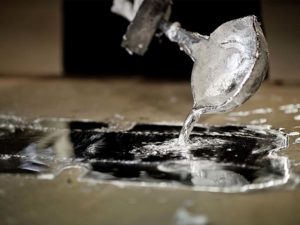 Our sheet metal prototype capabilities range from small brackets to complete BIW vehicles. Our capabilities include:
Process engineering
Foundry
Tool machining
Stamping
Hot stamping
Sheet metal fabrication
Bending
Laser
Assembly process
Production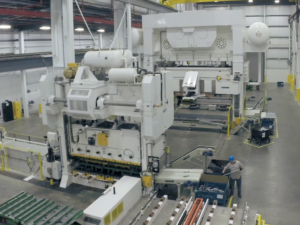 All of our capabilities are housed under one roof which allows us to have complete control of your project from start to finish. From process engineering at the beginning of your project to hot stamping unique metals to final assembly of those parts, we house all capabilities under one roof. This allows us to have complete control of the quality of your project from start to finish.
We utilize our production manufacturing experience to develop robotics and flexible assembly cells that increase prototype repeatability. Our processes are fully integrated from design to assembly, which lets us ensure the quality you expect throughout the entire process.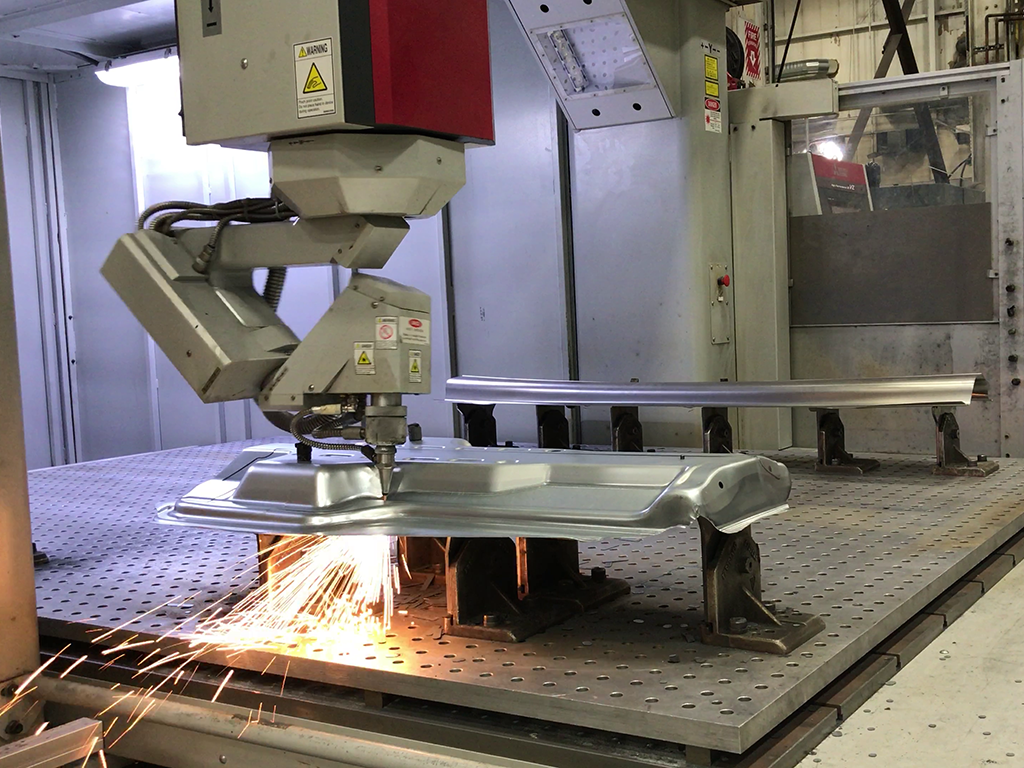 We can stamp, laser cut, join, and assemble large, complex geometries and assemblies, including full prototype BIW vehicles. We operate 33 hydraulic and mechanical presses on multiple shifts, allowing us to work around the clock to complete projects with tight time schedules. Our hot stamping cells are fully integrated with robotic handling for repeatability and consistent properties. We also have three adhesive curing ovens for projects that require adhesive bonding. We are experienced with a number of advanced and exotic materials, including boron steel, titanium, aluminum, Inconel®, Waspaloy®, and Hastelloy®.
In-house Kirksite Foundry and Tool Design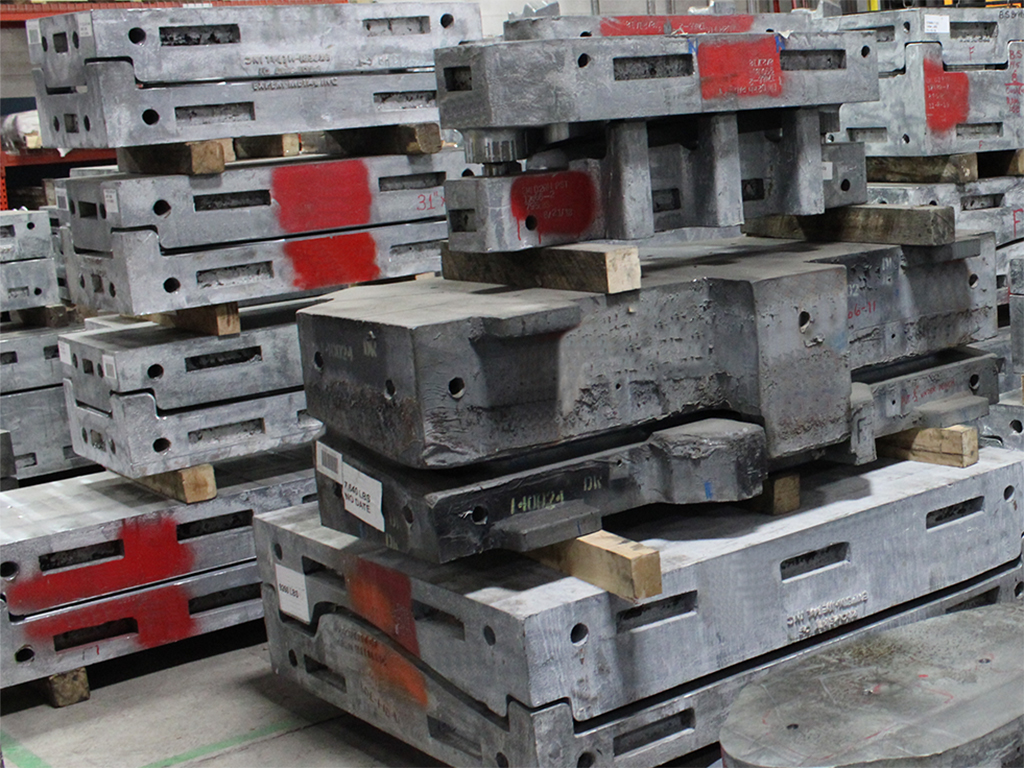 Our in-house kirksite foundry allows for full control to support tooling and assembly for projects that require quick turnaround. It is EPA approved and has a pour capacity of over 750,000 lbs. a month. This uniquely positions us for prototype metal stamping projects.
Our experienced craftsmen have decades of technical expertise designing tooling for prototype and short-run applications. Their years of knowledge in tool design process drives consistency, efficiency, and performance throughout your project.
We develop custom assembly work cells based on your project's specific needs to standardize processes and ensure consistent quality through the life of your project. These efficient processes allow for the rapid execution of product and process revisions, including managing master data files, incorporating working data files, and providing updates to all process documentation.
Computer-aided Engineering
We use a mix of traditional manufacturing processes combined with the latest industry technology. We have the ability to receive all customer designs in native format through a large investment in several CAD systems, including:
Unigraphics/NX
CATIA
Solidworks
Autoform die simulation
Omnicad morphing
Cenit OLP for robotic processing
Fastsuite OLLP for laser cutting
Work NC OLP for machining
Our ability to work with this wide array of design programs provides many benefits for you. For example, AutoForm allows for finite element analysis and die form simulation both prior to die manufacturing and during design. 3D laser scanning assists in manufacturing feasibility and reverse engineering support. Together these programs allow us to ensure that your products meet your exact specifications.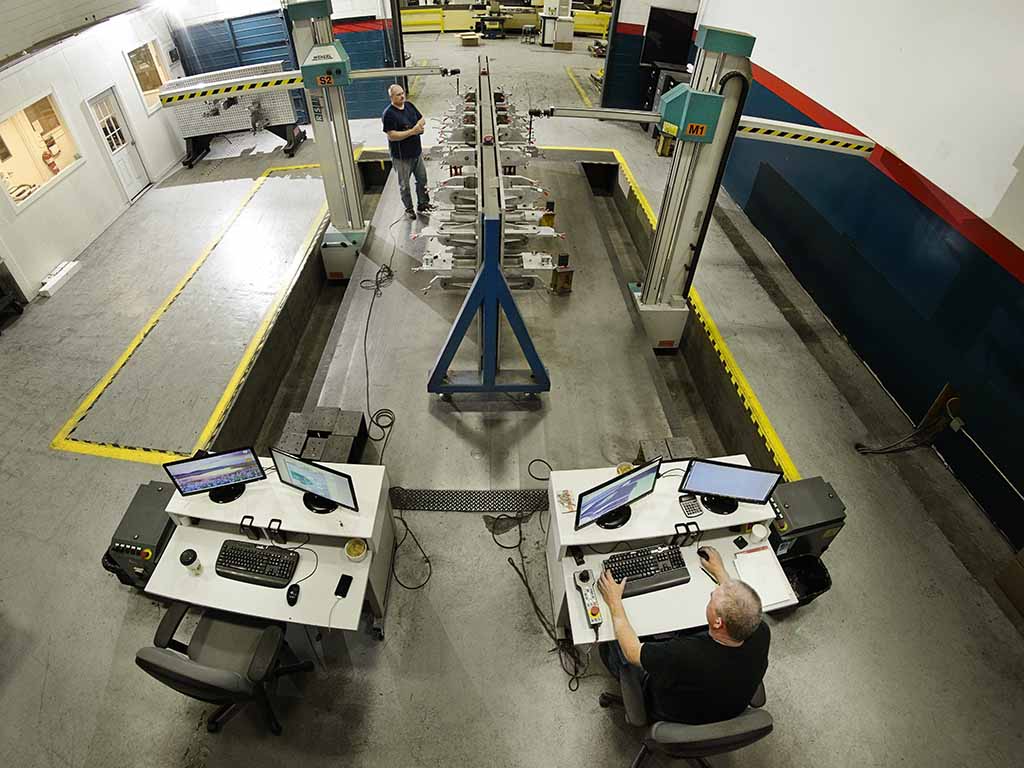 We utilize world-class quality systems to ensure processes are delivering optimal results. Our metallographic laboratory is used for R&D, hot stamping material inspection, product validation, and weld failure analysis. This micro-structure analysis allows for very specific tensile strength and hardness testing. Our quality laboratory utilizes coordinate measuring machine (CMM) programming, portable laser scanning, and check fixtures to ensure tight tolerances are met. We have CMM equipment large enough to measure a full BIW, guaranteeing your final product meets your specifications. We also have the ability to test welds real-time, which ensures speed-to-market and the quality our customers have come to expect.
Complex Robotic Joining Methods
We employ a wide range of complex robotic joining methods based on your project's specific needs and requirements, including resistance welding, hemming, adhesives for structure and bonding, and an onsite curing oven large enough for a completed BIW. Our three Centers of Excellence give us the capacity for large prototype joining projects as well as hybrid assembly and production programs.
Our joining technologies include:
AC manual weld guns (RSW)
DC manual and robotic weld guns with adaptive controls (RSW)
Press welder for fasteners (RSW)
Clinch press for clinch nuts or studs
Manual and robotic welders (MIG)
Fronius "cold metal transfer" manual and robotic welders (CMT)
Manual welding equipment (TIG)
Drawn arc stud welding
Self-piercing rivets (SPR) – (Henrob & Bollhoff)
Flow drill screws (FFS & FDS)
Bonding with onsite cure oven capacity for full vehicle BIW
Laser welding
This assortment of joining methods ensures we can meet the specifications and different joining arrangements your build needs.
We have designed and completed programs with a wide array of joining processes for many materials, including aluminum, steel, stainless steel, high nickel alloys, and titanium. We can join dissimilar metals of different thicknesses using our mixed material joining technology, ensuring we can join the materials your program requires.
The security of your project is a top priority for us too. We have fully secured vehicle build areas to ensure the utmost confidentiality of your prototype project. Our buildings require key card access and all visitors must cover cell phone cameras while on-site. All visitors must also be accompanied by a QMC-EMI employee at all times to make sure they are only in approved areas of the building. We will implement whatever customized measures you require to protect the security of your prototype project as if it were our own.
Helping Your Next Project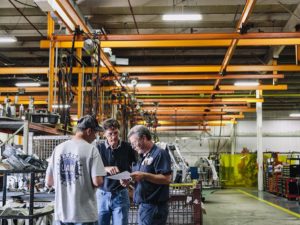 We continuously strive to understand your current needs and anticipate your future goals. We are proactive in suggesting creative engineering, cost, and time-saving solutions and our prototype stamping capabilities are some of the best in the industry. Tell us about your next project so we can work together to help you shape the mobility of tomorrow.
Inconel® is a registered trademark of Special Metals Corporation.
Waspaloy® is a registered trademark of United Technologies Corp.
Hastelloy® is a registered trademark of Haynes International.