May 24, 2022
A program's product design and volume determines the sheet metal stamping and production process. We carefully engineer the manufacturing process to ensure it is as efficient as possible. Our range of capabilities include process engineering, foundry, tool machining, cold stamping, hot stamping, sheet metal fabrication, bending, laser, and assembly process. By housing all of these capabilities under one roof we provide you with a high-quality, lean, competitive solution for your production requirements.
Our Capabilities:
Process Engineering – To improve accuracy and reduce trial and error, we utilize advanced engineering tools, such as stamping simulation, solid modeling, FEA simulation, and CNC machine coding.  Our expertise in each of these processes helps us meet challenging standards and deliver on-time, on budget programs you expect.
Foundry – Kirksite is a zinc-based alloy that is used to create short run production tooling. Kirksite tooling machines easily and the die surfaces can be polished to a smooth finish. Our in-house kirksite foundry enables us to keep the entire process under our roof, from tooling to part. This allows us to produce tooling and incorporate changes very quickly to meet your tight time frames.
Tool Machining – High-quality castings poured from our in-house foundry are precision machined on our CNC mills. Forming tools weighing over 30,000 lbs and as large as 8'x19' can be manufactured without ever leaving our facility.
Sheet Metal Stamping – With 33 presses and the ability to work with a wide range of metals, we can provide the structural solution your project needs. For our automotive customers, we stamp everything from small brackets to closure panels, including full size body sides, floor panels, A-frames, hoods, and battery trays, among other parts.
Hot Stamping – Our state-of-the-art hot stamp cell and metallographic lab allows us to provide you with superior products and validation results. Metals we hot stamp include boron steel, usibor steel, Titanium, Inconel®, Waspaloy®, and Hastelloy®.
Sheet Metal Fabrication – We will tailor our solutions to your program's specific needs, such as joining aluminum to steel. From cutting and bending to stamping and assembling, each program is unique. We manage your complete program in-house, vertically integrating all processes and technologies while maintaining a single point of contact.
Laser – We are equipped with the latest technologies in 5-axis and flat pattern laser cutting to cut a full range of materials. Utilizing CO2, O2, nitrogen, and fiber machines, we are able to trim precision metal components with speed and minimal burr. Our machine configurations allow for complex shapes and sizes and accommodate the full range of metallic options with both online and offline programming capabilities. We employ cutting capabilities that allow us to work with a wide range of metals, including carbon steel, aluminum, stainless steel, Inconel, titanium, coated metals, mild steel, and high strength metals.
Assembly Process – We are a full service sheet metal supplier that specializes in production joining and welding technologies. We employ a wide range of complex robotic joining methods based on your project's specific needs and requirements, including resistance welding, hemming, adhesives for structure and bonding, and an onsite curing oven large enough for a completed BIW.
Our Sheet Metal Stamping Capabilities: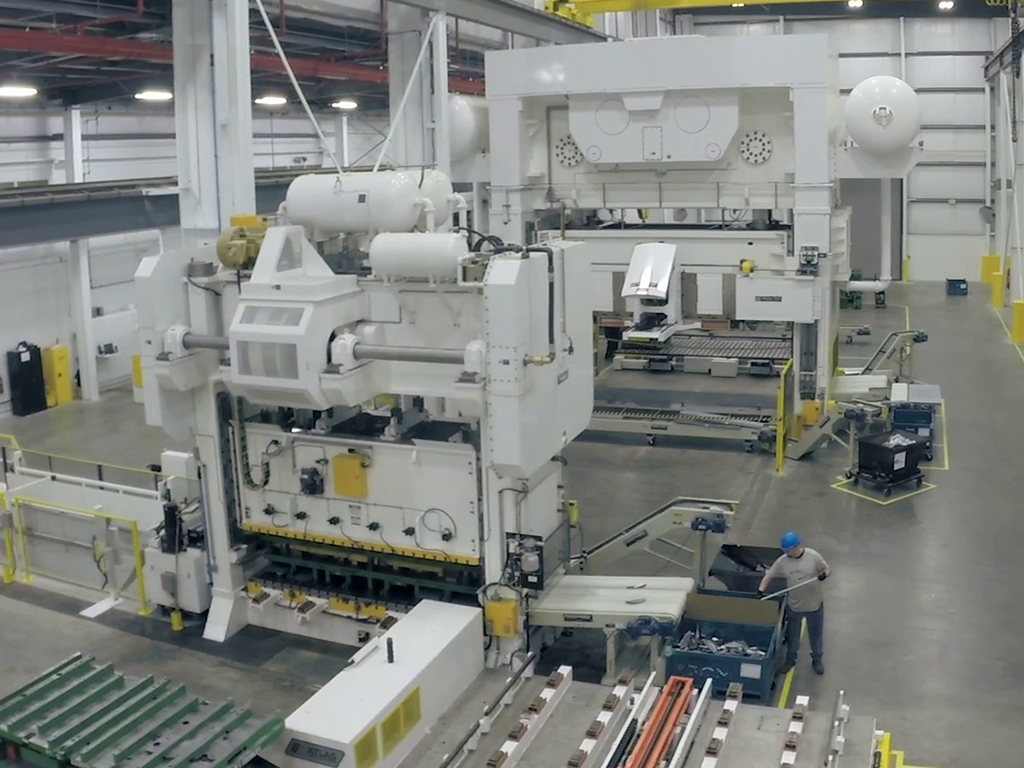 We have stamping presses to manufacture virtually any of the sheet metal stamping parts you need. Our 33 presses range from 150 to 4,000 tons with bed sizes from 42" x 60" to 240" x 96". Our equipment allows us to manufacture parts of various material specifications and thicknesses. This includes hand and coil fed transfer and tandem line presses. We feature a 2,500 ton coil fed transfer press allowing for a faster, more automated process for large stampings and assemblies. Our brake press uses v-tool forming, reducing tool costs for straight, less complex bends. We also have 500 and 600 ton presses with roll-out bolsters that use multiple dies and minimize change outs over time. Combined, this gives us the ability to stamp the parts you need to get your product to market faster.
We are a leader in the production industry with 60 years of experience working on a wide range of programs. See how our experience can benefit your next production program.
#qmcemi #metal #production #sheetmetalstamping #automotiveproduction
Inconel® is a registered trademark of Special Metals Corporation.
Waspaloy® is a registered trademark of United Technologies Corp.
Hastelloy® is a registered trademark of Haynes International.